We are living in a highly modernized world; where everything is constantly changing including the way we dress, eat, and even live. Nowadays many people are eating their food without knowing about its nutritional value and benefits; which sometimes causes harm to health. Usually, by eating unhealthy food; people face stomach-related issues like gas, heartburn, aches, and a few other problems.
In some research, it was found that ignoring these health issues in our body, for a long time can lead to some serious health problems at a later stage. You can go for effective stomach relief medications to deal with such issues. There are many varieties of stomach relief medication available in the market, but if you don't want to feel helpless; then select a product according to its quality and effectiveness. If you want to know about one of the most effective treatments for common stomach issues; then Atrantil would be our first choice to go for.
About Atrantil
Atrantil is a fine dietary supplement; which is excellent in offering good dietary balance and support to people with stomach issues. According to some research done on Atrantil, it is found that it claims to offer effective relief from stomach ails like bloating, unwanted changes in bowel habits, and abdominal discomfort.
It uses natural botanicals to offer immediate relief from stomach issues; without using any type of digestive enzyme supplement or probiotic. It is an excellent choice to make if you have ensnared yourself with stomach problems like IBS and SIBO. It is a clinically proven stomach relief product.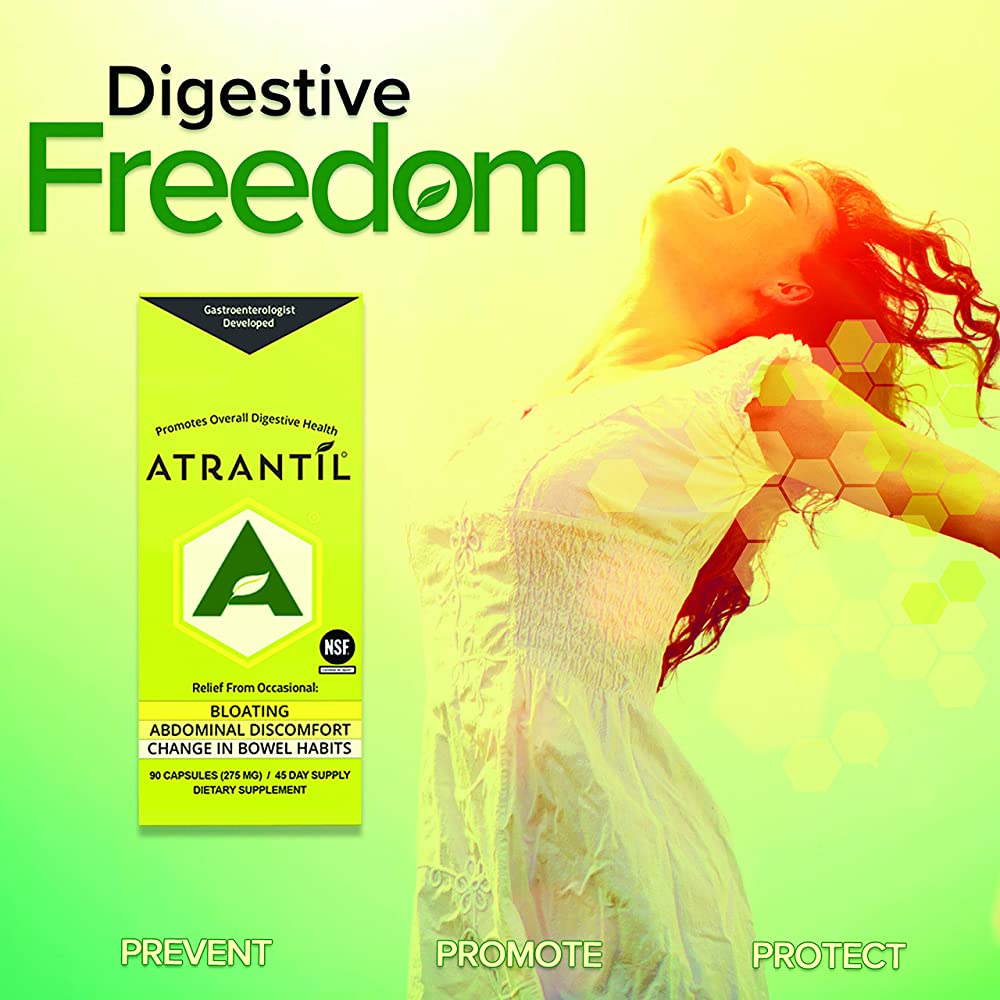 The ingredients used in it are selected by studying the effectiveness and profusion of benefits it offers. One of the best things about Atrantil is that it is developed by "Dr. Kenneth Brown" who is a popular board-certified gastroenterologist. He developed it to help out his IBS patients; whose stomach problems couldn't be resolved with traditional medication and methods.
It is said to offer relief within hours after experiencing symptoms. It will not leave you dejected, since its unique formulation prevents methane-producing bacteria from feeding the food you eat; which leads to bloating. It supports good digestive health with its patented combination of natural polyphenols.
Ingredients
Atrantil has used three main natural ingredients in its product to offer effective relief from irritating stomach ails that one can be facing. Those ingredients are mentioned below.
1. Quebracho Extract
2. Horse Chestnut
3. Peppermint Leaf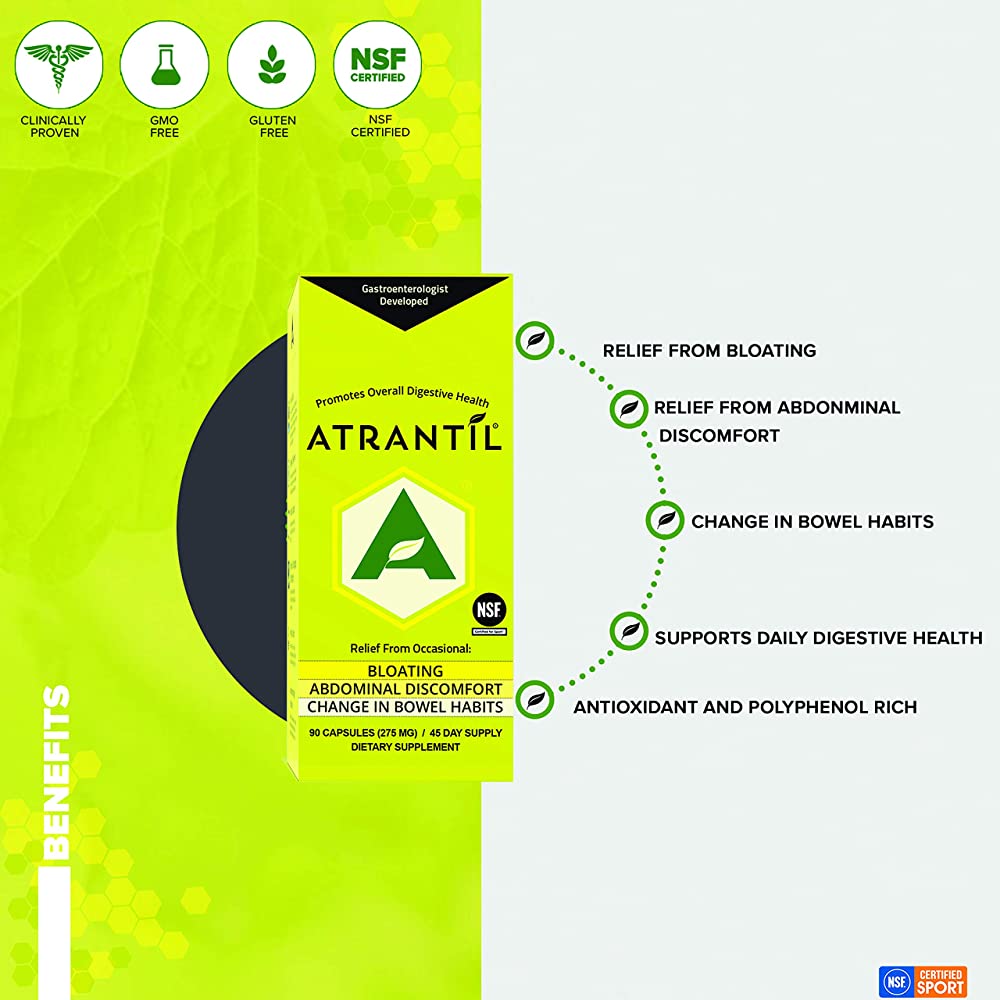 Quebracho Extract
The extract of Quebracho is created from the bark of a hardwood tree; which is originally from South America. This tree has 15 different species and only some of them are used for medical purposes and the rest are used for commercial purposes.
The red quebracho is proven to aid in managing gut-related issues. Its extract comes with "tannins", which are known as water-soluble polyphenol, that get bonded with hydrogen and reduce the production of methane and destroy the bacteria lipid bilayers.
Quebracho is considered as a macromolecule; which makes it non-absorbable by the intestine and remains inside the gastrointestinal tract without getting inside the bloodstream.
Horse Chestnut
Horse chestnut is a tree; whose flowers, leaves, bark, and seed are used to make medicines. It has the presence of "esculin", which is a poison and can be extremely lethal if eaten raw. The leaf and seed of Horse chestnut are used to treat health problems like swollen veins and hemorrhoids. It also offers relief from fever, enlarged prostate, and diarrhea.
While using horse chestnut products, always remember that it may cause side effects to some people like headache, dizziness, and stomach aches. In simple words, horse chestnut is a natural inhibitor to the enzyme; which lets methane be produced.
Peppermint
Peppermint is another main natural ingredient used in Atrantil. Peppermint is a well-known plant all over the world; for its leaf and oil, which is a beneficial medicine. It can be very helpful in treating health conditions like inflammation of the mouth and throat, common cold, cough, respiratory infection, and sinus infection.
There are some common side effects of peppermint like headache, flushing, heartburn, and allergic reactions. In Atrantil they use the whole peppermint leaf extract, not just the oil. This extract offers effective relaxation to the small bowel and creates a great environment for Quebracho and Horse chestnut to work more efficiently.
Conclusion
Atrantil is a fine digestive supplement that will definitely surprise you with its effective stomach relief treatment. Its natural ingredients don't come with any type of synthetic chemicals, drug, or antibiotic compounds. It is one of the best 100% vegan digestive supplements that are free from soy. For easy consumption, it comes in the form of a capsule.
Get this fine dietary supplement from the local stores in India; that deal with genuine health products. If you can't find it at your local market; there are many popular websites offering online shopping in India that deliver this product right at your doorstep.
It is the result of Dr. Ken Brown's desire to provide drug-free treatment for digestive and IBS issues for his patients without side effects. He launched it under the company KBS Research in the year 2012. This stomach treatment can comfort stomach ails by dealing directly with the source of the problem. Build a good digestive system with Atrantil.
Disclaimer
This article about Atrantil was written only for informational purposes. We have written it after doing research on different sources both online and offline. Atrantil does not treat, prevent or cure any disease. If you are pregnant or taking any type of medication, then you should first consult with your doctor before using this product.